LOOP (Chile)
Chiharu MK is a Japanese experimental electronic musician and Sachiko Nagata, also from Japan, is a percussionist who plays a peculiar instrument: 'Hamon', which is a bow iron drum which is blended with field recordings that come from Hokkaido, an island in the North of Japan.
Sounds of birds, gulls and other birds, raindrops, 'Hamon' timbres that spread across the sound environment give more depth and colorful and rhythm to the music.
Such is the variety of sounds ('Blow Flow I' and Blow Flow II ') that become melodies, it's better to be careful and not to miss anything.
'Blow Flow III' I Blow Flow' has an intense and penetrating drone in the background but still the birds and the 'Hamon' mark their presence. Amazing disc!
Guillermo Escudero
March 2013

http://www.loop.cl/
PR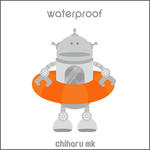 waterproof / chiharu mk
(sc-mk-0901)
定価1,890円(税抜価格1,800円)
2009年9月2日 全国発売。
1) waterproof、2)a.N. 、3)panoramic chaos、4)no.4、5)style - r junichi oguro remix、
6)blue cave - inner mind - 、
7)flow
http://www.myspace.com/chiharumk
produced by chiharu mk masterded by yoshihiro tsukahara / studio riccio
art direction & design : chiharu mk illustration : martin chik / javatea
01)guitar : yoshihiro tsukahara
05)remixed by : junichi oguro
06)cello : tomoki tai
07)vocal : tomoko shirata

twitter.com/chiharu_mk
プロフィール

HP:
自己紹介:
●●●-●●●-●●●-●●●
2001-2002年 国営ラジオフランス内「INA/GRM」にて電子音響音楽を学ぶ+
2002年 MOTUS主催 「FUTURA」にてスピーカー・オーケストラ・システム「アクースモニウム」の演奏法を学ぶ+
「IMEB30周年記念事業」でフランス国立図書館に「Kodama_2nd」が収蔵される+
電子音響音楽の他に、テルミンとのユニット「citron」でライジングサン・ロックフェスティバル2004 in EZOに出演+
2007年アルバム「piano prizm」、2009年「waterproof」をリリース+
ブールジュ国際電子音楽フェスティバル(FR.)、ICMC2010(NY)他に入選+
■MySpace+
■the sixtyone
■PhotoGallery
■Twitter